Pumps
GEARS GmbH offers you high-quality, versatile pumps for rent. In particular, the high performance segment is our specialty. Before each delivery to the customer, all pumps are serviced and subjected to a performance test. Of course, the safety devices are also checked. We know that every application places individual demands on the pump technology, which is why we have a wide range of different pump types in order to be able to optimally adapt the technology to your needs.
PLUNGER PUMPS
Plunger pumps can be found as reliable high-pressure pumps in many industrial applications. Typical fields of application are HDI work, service work in oil and gas, industrial cleaning or in process technology in the chemical industry. They are suitable for pumping all liquid media such as water, mud, acids, oils or liquid gases. In addition, they can be used in a wide temperature and pressure range.
GEARS GmbH has a diverse range of different plunger pumps in different performance classes and pressure levels. Thanks to our experience, we can equip the pumps with the right equipment for the respective application, optimally adapted to your needs.
PISTON PUMPS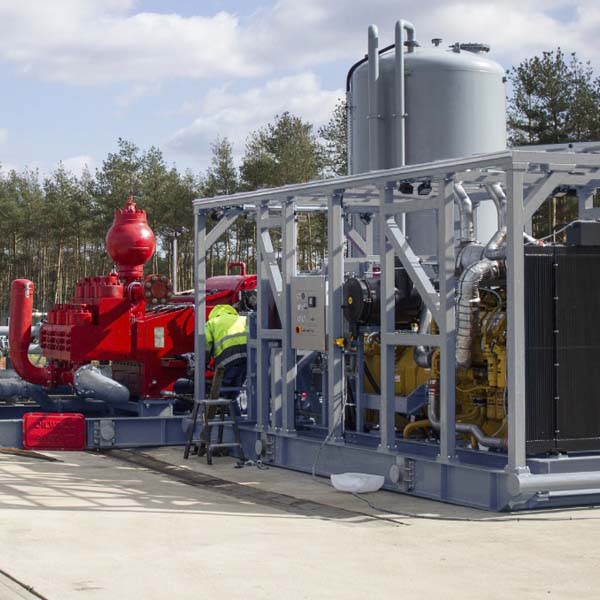 Piston pumps are mainly used in the drilling industry, in HDD and in well construction as mud pumps. They are ideally suited for pumping mud and oil.
GEARS GmbH has a selected range of different piston pumps for different performance classes and pressure levels.
Thanks to our experience, we can individually equip the pumps for the respective application with the right equipment for your circumstances.
Let us know your needs and we will provide the right equipment.
CENTRIFUGAL PUMPS
Different designs and seals are used depending on the delivery rates and the delivery liquid. Here, too, we can equip the centrifugal pumps with the right equipment for the respective application, so that your project is equipped with the best possible centrifugal pump technology.
The main advantages of centrifugal pumps are the lower operating costs and smoother running compared to displacement pumps. The most important areas of application are the water and waste water sector, mud transport, the chemical industry and refinery applications.
FRAC PUMPS
Our Frac Pumps are coming with 2000 HHP or more. We have skid and trailer mounted units available. Triplex and Quintuplex pumps are part of our portfolio.
The units are CE certified and within the European road regulations.

We have different plunger sizes available to adjust our pumps to your operations.
LIQUID ADDITIVE SKIDS (LAS)
Diaphragm pumps are pumps that convey liquids and gases and are extremely insensitive to continuous stress and contaminated conveyed material.
Thanks to the separating membrane, the drive is protected from harmful influences, for example from mud or chemically mixed liquids. They are compressed air operated and available as an ATEX version. These pumps are used in all areas. Below you will find our extensive range of diaphragm pumps.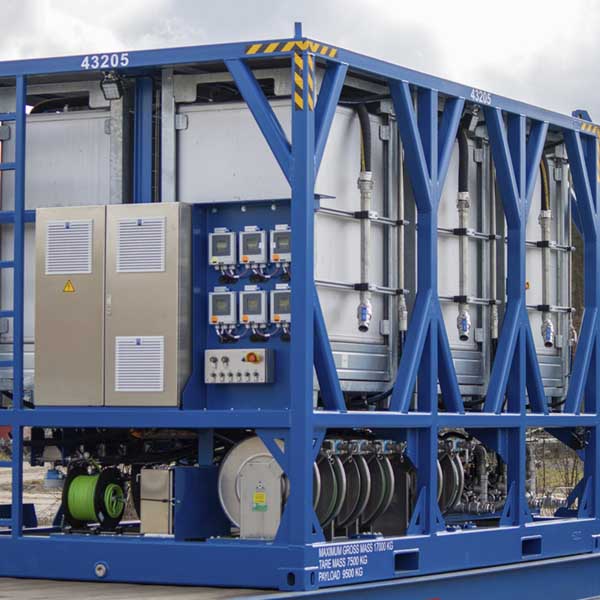 Pump Accessories
A range of additional equipment is available for our pump units. We also have a large selection of suction and pressure lines up to 10 bar HP and pressure lines up to 1000 bar, which we of course subject to regular pressure tests.
SUCTION LINE UP TO 20 BAR
Our suction and pressure line is available in sizes 2″- 8″. A working pressure of 10 bar is standard. The standard connections are Perrot and Fig.206.
We have a wide range of various adapters to other systems such as Bauer, tanker couplings, etc. The standard lengths are 2″-3″ 10 m and 5 m. At 4″-8″ 5m and 3m. Transport boxes for suction hoses are available in 5m and 3m. We also offer a wide range of different flow meters, shut-off valves, T and Y pieces.
PRESSURE LINE UP TO 1000 BAR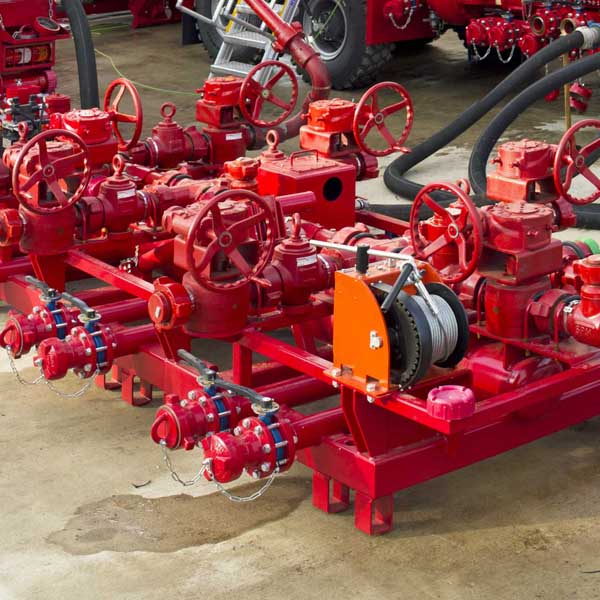 We have a large selection of pressure line equipment. Hoses and steel lines are available in 1″- 6″ and in various pressure levels. In addition, we have a wide variety of joints, HD slides and check valves always available.
Our standard connections here are Fig. 206 (137 bar WP) and Fig. 1502 (1000 bar WP). In addition, we have various adapters for other connections and sizes, so that we can implement any connection option for you. All pressure lines are subjected to a regular pressure test, which is of course documented and supplied with your order.
EQUIPMENT
There are various accessories for our pumps in order to best equip the pumps for your operating conditions.
We have ATEX II remote controls, spark arrestors and additional silencers for our pump units. In the smaller pump segment, for example, we have float switches and pressure switches.
There are many ways to meet their needs. If you have special requests, please contact us.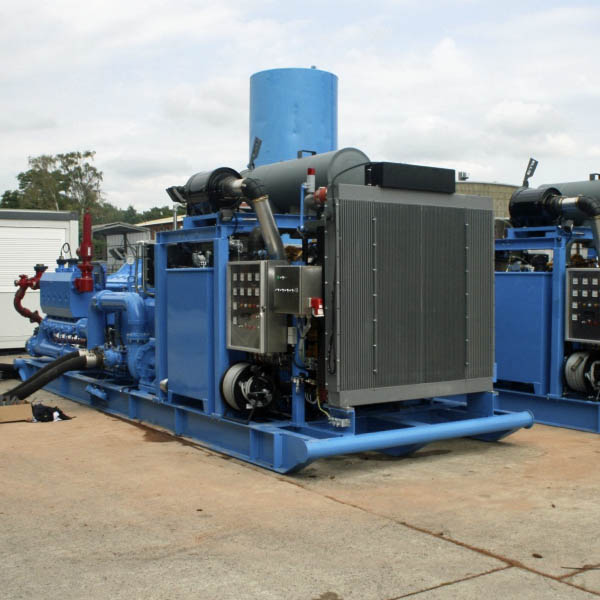 Batch Mixers + Tanks
Our batch mixers are primarily intended for use in special civil engineering. However, they are also used in other sectors. Tanks are required for a wide variety of applications, which we can supply in a wide variety of sizes and with various equipment. For example, we have tanks with and without agitators, coated differently and for fuel storage. Depending on what you need, we equip the batch mixer or the tank according to your requirements in the best possible way.
MIXING UNITS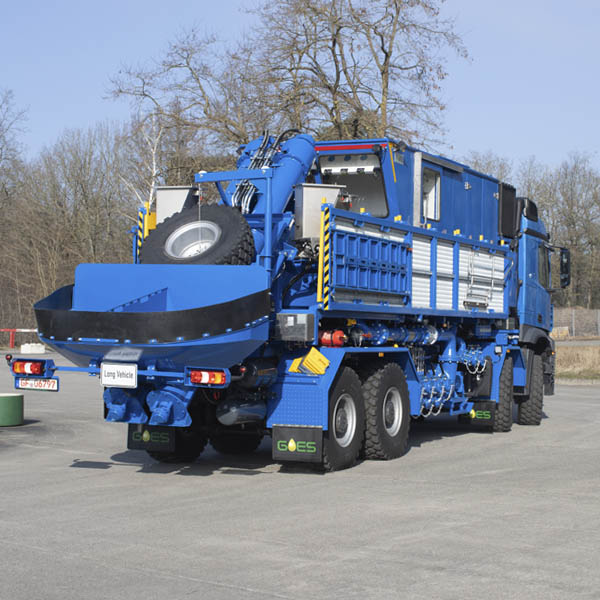 Tanks up to 8m³ are designed in a round design with a dished bottom, so that there is no settling on the tank bottom and cleaning is made easier. The tanks are equipped with large paddles and low speeds in order to keep the finished cement mixture moving in special civil engineering. With a small paddle and high speed, for mixing various suspensions in the oil and gas sector.
Large tanks over 20m³ are rectangular and are therefore not recommended for cement. However, they can also be equipped with agitators to keep the mud or polymer moving.
STORAGE TANKS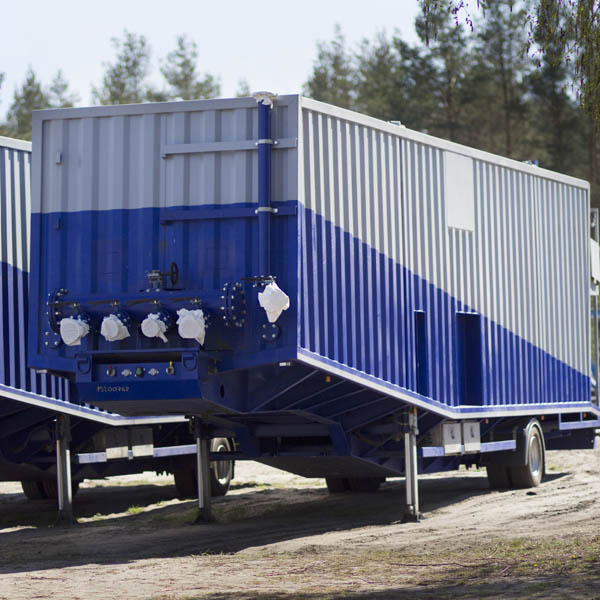 These tanks are available up to 70³ with and without coating. These are used as storage or buffer tanks.
There are several connection options on the inlet and suction side. The connections are assembled according to customer requirements.
Additional Equipment
To carry out your work you need a wide variety of equipment. In order to be able to support you better here, we are constantly expanding our program to include the special equipment you need. As usual, from GEARS, you always get well-maintained material.
ADDITIONAL DIESEL TANKS
Do you need a temporary storage space for fuel or do you want to increase the tank volume of our aggregates? Play it safe with these fuel tanks. By equipping it with an electric fuel pump to refuel your equipment on site or with a hydraulic coupling for direct connection to our rental units.